Plumbing contractors in the US may find themselves in situations where different forms of insurance offer distinctly necessary protection. Whether you're starting a new plumbing business or taking over a currently existing company, plumbing contractors in states across the country, including California, should consider various insurance products designed to help protect every aspect of the business.
Do I need contractor insurance in California?
In most cases, whether or not you purchase insurance for your plumbing contractor business will be optional. However, even where insurance is optional, you should still consider either extending the insurance already in place if you inherited or purchased a business, reviewing and revising the current insurance coverage in place, or purchasing new insurance policies (especially for new plumbing contractors).
The insurance products you should consider include:
Workers Compensation (required in California and most other states)
General Liability
Commercial Property Insurance
Business Owner's Policy (BOP)
Commercial Auto Insurance
You will also need to consider how to get your certificates of insurance in a timely manner. Certificates of insurance verify that you have insurance coverage, which may be necessary if you need to file a claim. You may also need proof of insurance when you receive plumbing jobs.
Let's explore each of these insurance policies, what they offer plumbing contractors, and why you need to consider either updating old policies or purchasing new ones as soon as possible.
Workers Compensation
The only insurance plumbing contractors are required to purchase in California is Workers Compensation. This insurance serves as an income and healthcare cost supplement for workers who are injured on-the-job or while performing work-related duties.
In California, worker's compensation law (California Labor Code Division 3, section 2700 through Division 4.7, section 6208) requires that employers provide worker's compensation for:
"Every person in the service of an employer under any appointment or contract of hire or apprenticeship, express or implied, oral or written, whether lawfully or unlawfully employed."
In California, it is a criminal offense to be an employer who fails to provide Worker's Compensation insurance. Penalties include up to 1 year in jail and/or fines of up to $10,000. The state also reserves the right to issue fines of up t0 $100,000 for illegally insured employees.
Insurance must be purchased by the employer on the part of the employees. You also cannot force or request employees to contribute to the cost of the Workers Compensation insurance. California considers this a cost of doing business in the state.
Additionally, California law requires you to display you prove that your Workers Compensation coverage is current and in the right amount for the number of employees you currently employ. The coverage certificate must be displayed in a visible location within your business and easy to find should there be a state inspection or inquiry.
The California Department of Industrial Relations has more information on employer Workers Compensation requirements.
Insurance can be purchased through a number of different insurance providers, and prices will vary as there are rates set by the California government.
Plumbing contractors do have the option of self-insurance, although the limitations include state approval, a net worth of $5 million or more, net income of $500,000 per year, and a security deposit. And although this is a possibility, self-insurance may carry added financial risks and burdens. It is not a recommended option due to potential detriment to your business
General Liability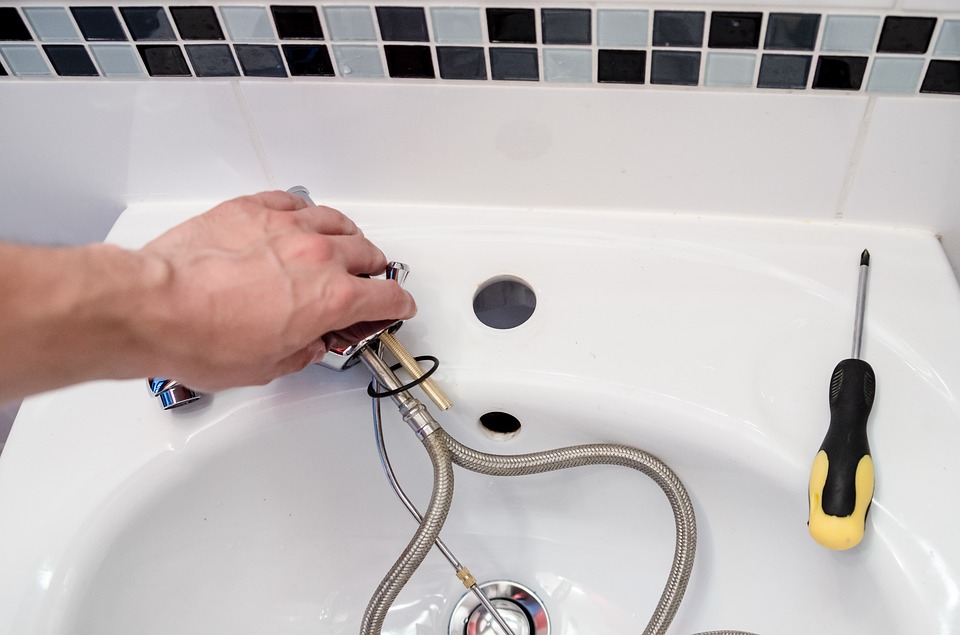 General liability coverage is an extremely common insurance policy for businesses, including plumbing contractors.
This insurance provides a holistic coverage for a wide range of liability concerns for contractors, including:
Bodily injury claims made against your business
Property damage claims (off-premises)
Advertising and personal injury
Faulty installations
Because plumbing contractors spend a large amount of time working in and around clients' homes, General Liability is a necessary insurance policy to help protect against a large number of potential claims that could arise.
For example, if you accidentally damage a customer's floor while repairing a broken bathroom pipe, you may face a liability claim against your business. General Liability is designed to protect against these types of claims. This coverage also includes claims made against subcontractors performing work on your behalf.
The same is true for claims of personal injury made against your business that may be associated with the products you install, or for faulty installations of products.
General Liability will cover not only the court costs up to the amount written into the policy, but may also cover damages should a judge rule in favor of the individual filing a claim against you.
General liability insurance is one of the most important insurance policies to purchase if you are starting a new contracting company. If you're taking over an older business, it's important to re-evaluate the General Liability policy currently in place, if one exists, to ensure that you're receiving the best rates and the type of coverage in the policy that makes sense for the business. Liability coverage needs can change, so older policies may not reflect the current realities for your business.
Commercial Property Insurance
It's important to have protections in place for your business property. Some of that coverage will come in the form of a Commercial Auto Insurance policy (covered below) as a fair amount of your equipment will often be housed in your work vehicles. However, any business property that exists at your physical business property will only be covered through Property Insurance coverage.
Property Insurance will cover losses up to the insured amount in the policy. Loss events can include but are not limited to damage from natural elements (wind, hail, snow), fire, theft, and more.
Importantly, Commercial Property Insurance does not cover damage from floods. For this, you will need a separate Flood Insurance policy.
Additionally, this insurance does not cover earthquake damage, which is a also a major concern for businesses in California. A separate insurance policy for earthquakes will need to be purchased or added to an existing policy as a form of special coverage.
The amount of coverage offered through Commercial Property Insurance is determined by the total value of your property. As such, it's important to have this insurance regularly re-assessed in case the coverage needs to be increased or decreased.
If you are taking over a new business that has a Commercial Property policy already in place, it's extremely important to re-evaluate the current policy to ensure there are no gaps in coverage, or to ensure you are not paying for more coverage than is necessary.
Inland Marine Insurance
Some plumber contractors may require added coverage for tools, especially during shipment. Inland Marine Coverage is another potential property insurance coverage that may be necessary if you find your business regularly ships equipment from one site to another.
Note that this is not the same as transporting equipment to and from work locations in company-owned vehicles. Your specific business need and operations will vary, so it's important to speak to a professional to determine whether your unique business circumstances could benefit from this type of coverage.
Business Owner's Policy (BOP)
If possible, you may want to consider purchasing a Business Owner's Policy, or BOP. This type of policy combines the benefits of Commercial Property and General Liability into one package.
A BOP is a good option to consider as it may save you money, and reduce some of the issues that exist with having multiple, complex insurance policies. Many insurance providers can help new business owners roll old Commercial Property and General Liability policies into one policy under a BOP.
This policy is also unique in that it often providers plumbing contractors with business interruption coverage. Business interruption coverage will provide sustainable income during periods where your business is unable to operate, such as following a natural disaster. This is important, as Commercial Property Insurance normally only provides compensation for lost property, but does not replace lost income.
Plumber contractors may not find the most value in a BOP due to certain limitations in its coverage. Coverage limits often exist for the General Liability aspect of a BOP which may require you to instead purchase Umbrella Insurance, for example, and the Hired and Non-Owned Vehicle Autos Liability coverage that often exists with some BOP policies may not be adequate as a replacement for Commercial Auto Insurance.
Commercial Vehicle Insurance
There's a good chance your business maintains one or more vehicles. If so, your business will need to purchase Commercial Vehicle Insurance. Even if you own the vehicle personally under your own name, if you are using it for business purposes, Personal Auto Insurance will not cover your business property. So in the case of theft or a loss due to any other form of vehicular accident, a Personal Auto Insurance policy simply will not cover your losses.
Commercial Auto Insurance will provide coverage for the value of any of your business property inside of the vehicle, as well as the value of the vehicle itself. It will also provide coverage for personal injuries and property damage similar to a Personal Auto Insurance policy.
Obtain and Update Insurance Policies and Certificates
It's important to make sure you keep accurate and updated records of your insurance policies.
When signing up for new policies, make sure you obtain the insurance certificates as soon as possible. This will be important for your own record keeping but may be necessary when a proof of insurance is required. Proof of insurance is going to be especially important when it comes to Workers Compensation coverage, as California law requires that you display your Workers Compensation coverage certificate in a visible location within your business.
It's also important to maintain accurate records, as you will want to re-evaluate your insurance needs at least once a year. If the value of your property changes, you may have gaps in coverage that could result in significant losses. Alternatively, too much coverage could result in overpaying for more insurance than what is necessary for your business.
Plumbing Contractors Insurance More Important Than Ever
According to the Department of Labor Statistics, plumbing jobs are growing at a faster than average rate. The DLS predicts 16 percent growth in the industry between 2016 and 2026. This also coincides with a recent, increased interest in plumbing jobs that have reached levels not been since seen 2010, as well as an overall increase in interest in plumbing insurance. In both cases, general increases were seen following 2016.
Video

More competition in this market will also mean a higher need to be insured in order to attract the best employees and protect one's business due to higher demand.
Your best option to determine whether or not needing contractor's insurance in California is to contact an insurance provider with knowledge and experience in California's unique Insurance marketplace.  Give us a call at 650-873-1255 and we'll be happy to answer any questions you have about your potential risk .