California is currently a state in turmoil. Fires have ravaged and continue to threaten several parts of the state, making it more dangerous for homeowners and increasing coverage risks for homeowners insurance providers.
These issues and more converge to create multiple headaches everyone. Key among them are rising homeowners insurance rates, which ultimately make it more expensive to own a home in California. Although some California homeowners have never directly impacted by wildfire, most have will likely seen homeowners insurance rates rise dramatically in the past few years. Unfortunately, the rising rates are not over yet.
How Much Does Homeowners Insurance Cost in California?
Some California residents may feel their homeowners insurance rates are excessively high. According to ValuePenguin (a LendingTree company), the average California homeowner paid $1,826 per year for a homeowners insurance policy. That's up from $966 in 2013, representing a rather striking 89% increase in just five years.
For some perspective, the national average for homeowners insurance is $1,192 annually. Although the national average also rose in the past 5 years, it only rose a more modest 8.75%. By comparison, not only are California residents paying more, the rate of change compared to other states is exceedingly high.
Regional differences in the average annual cost of a homeowners insurance policy in California do exist. For example, ValuePenguin found residents in Chula Vista (a San Diego suburb), paid an average $2,931 in homeowners insurance rates per year, or 60% more than the state average. Meanwhile, residents in San Francisco paid 24% less than the state average, at $1,384 annually.
Overall, almost everyone in California is paying higher homeowners insurance rates than they were 5 years ago, but some regions have been hit far more by rate increases than others.
Direct impact of fires on homeowners insurance rates
California has always been prone to wildfires. The state's unique climate makes for a perfect environment for naturally-occurring wildfires. The wet fall and winter weather gives way to dry spring and summer months, where the plant life slowly dries out and becomes quick kindling for fires.
However, as has been noted by several outlets, including the New York Times, climate change has made California both drier and hotter during the summer months. Combined with manmade activities, such as campfires and electrical system blowouts, California is now experiencing a larger number of wildfires each year. These wildfires have also grown in intensity and are now burning more acreage.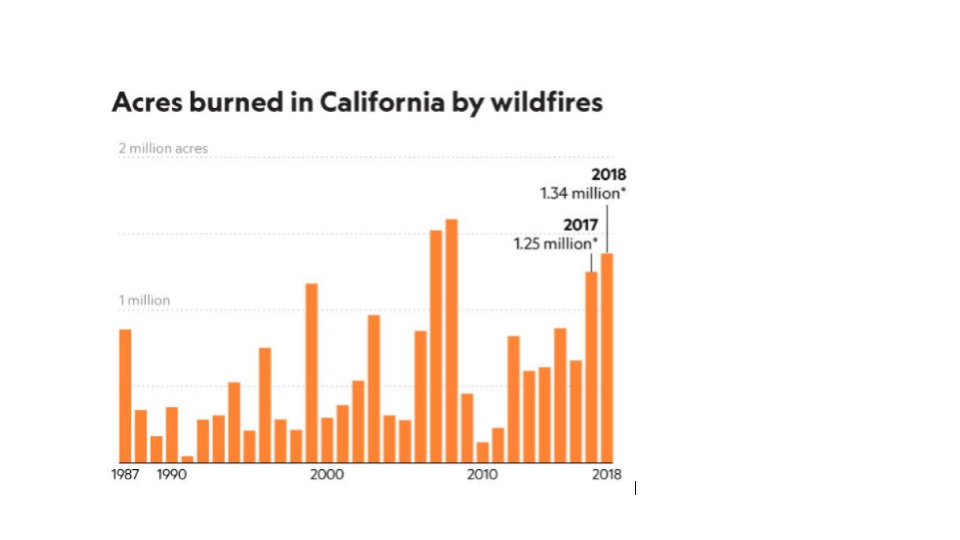 Source: National Geographic
[caliinsurance1]
Researchers note that 2018 was the worst year for wildfires in California. Over 17,000 homes and over 700 businesses burned down due to extensive wildfires that year.
The increasing number of fires, alongside more acres burned and more homes directly falling within the impact zone of these fires results in a larger risk to insurance providers. To help mitigate that risk, insurance providers have been increasing homeowners insurance rates statewide, and more so in high-risk zones.
Note that fire is among the key named perils that exist within a homeowners insurance policy. Other named perils, such as lightning strikes, explosions, wind damage, tree damage, and damage from vehicles, are far less common in most parts of California. If any of these areas also increased in frequency, insurance providers would respond in kind. As it is, wildfires are the most pressing issue at hand and a particularly pressing issue for both homeowners and insurance providers.
Indirect impact of fires on homeowners insurance rates
Insurance providers must also take into account not just the direct impact from wildfires, but the indirect impact that wildfires cause.
Mudslides and landslides
Mudslides and landslides are also increasing in frequency and are a problem for California homeowners in high-risk wildfire zones.
The risk for mudslides grows following wildfires. Most wildfires in California occur prior to the state's rainy season. These fires destroy the foliage that keeps the topsoil stable. After a wildfire, the loss of foliage can cause the ground to become less stable and increase the risk of erosion. As heavy rains pour in during the fall and winter, mudslides and landslides can occur.
Homeowners insurance companies must take this issue into account when calculating rates. Nevertheless, most insurance companies don't cover mudslides, landslides, or other forms of "earth movement" without a policy add-on specifically for that type of peril. All the same, homeowners should also take this into account when considering coverage.
Burglary and theft
Although homeowners insurance companies don't typically cover mudslides or landslides, burglary and theft are named perils in most policies. As homeowners are asked to flee their homes, the risk of burglary can increase as numerous homes are left unprotected.
Can I Lower My Homeowners Insurance Rates?
California's insurance companies were hit with around $24 billion in insurance claims through 2017 and 2018 due to increasing wildfires. Left with little recourse, insurance companies have passed the cost of these claims onto homeowners, and especially those homeowners living in fire-prone regions.
There's currently little homeowners can do to effectively lower these costs, as the risk of wildfires continues to grow with no clear end in sight. However, homeowners can take a few precautions that can minimize the risk or amount of damage to the home, and help encourage lower rates from insurance providers.
Homeowners in California should consider:
Clearing away brush from around the home
Installing double-pane windows
Replacing wood fencing with metal, or create a stone or metal barrier between your home and your wood fence
Using Class-A fire-rated roofing shingles
Placing wire mesh over vents, basement openings, and vents
Cleaning gutters regularly
Using non-flammable mulch, such as composted wood chips
Trimming tree branches so that no burning debris can fall onto the home or into the chimney
It's important to speak to your homeowners insurance provider prior to making any changes to your home to verify which changes can help lower your insurance rates. However, any of these tips are ultimately important to consider even if your insurance provider does not offer discounts. The preservation of your home should be your highest priority.
Do you need to learn more about how homeowners insurance works? Give us a call at 650-873-1255 to get expert advice on homeowners insurance policies and rates in Californi